Loxi: Now with RSVP!
One of the most requested features we get is for RSVP. Well, we've got news for you. We rolled up our sleeves and went to work to make it happen. It's official: guests can RSVP to events on Loxi!
This is included in your $8/month plan, no additional upgrades or changes needed. When you go to add an event, you'll now see "RSVP" as a section in your dashboard.
How to add RSVP
Open the RSVP tab in the event editor. Turn on the option to enable RSVP. Select the date and time to start. This tells Loxi when the RSVP form should be displayed on the event page. You can select a date in the future if you prefer to display the RSVP form to visitors at a different date and time from when the event is published.
The default attendee information you'll collect is name and email, stay tuned for future updates to be able to customize this and collect more information.
Disabling RSVP
You can disable RSVP on any event where it is enabled by switching it off in the RSVP tab in the event editor. Note that Disabling RSVP removes the form but does not delete any existing responses. If you enable RSVP again you will still see previous responses.
RSVP and recurring events
Note that RSVP cannot be used on an event that is part of a recurring series of events. To enable RSVP on a recurring event, break the event out of the series — for example, by changing the event date and time — then choose the option to enable RSVP for that specific event.
How to manage attendees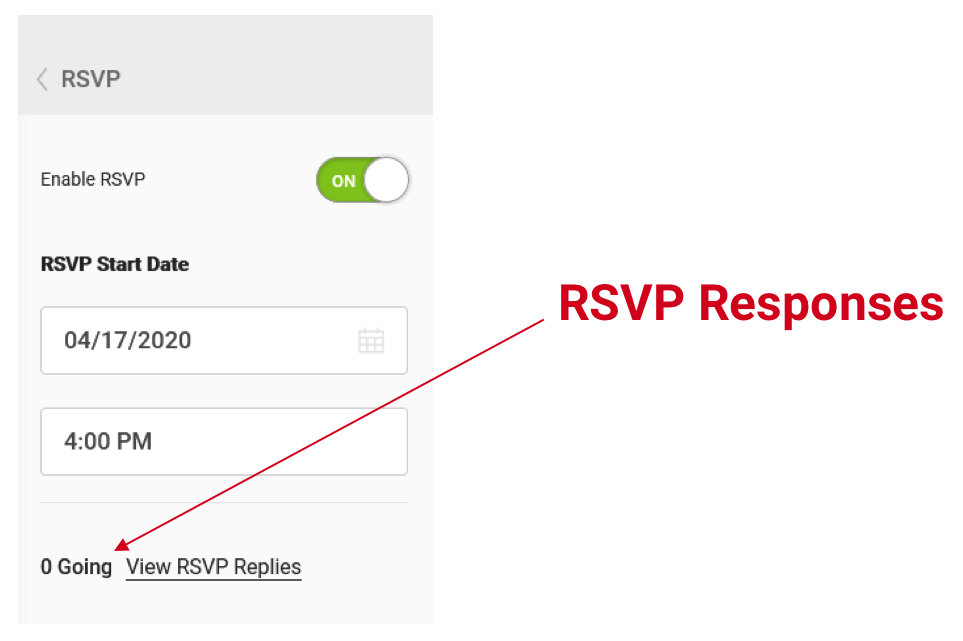 If RSVP has been enabled on an event and a visitor responds, then that person will be added to a list of registered guests that you can view and download.
To access the list, click on the RSVP item in the main menu. This will take you to a list of events on your calendar that have RSVP enabled. Locate the event you want to view and click on the "Download CSV" link to save a copy of the list to your computer.
From there you can add your list of attendees to Mailchimp or any other email service to keep in contact with your attendees.

Conditional content with RSVP
Want to only show a Zoom link after someone RSVPs to your event? Or have more info, a special embedded video, or other details that you only want attendees who have RSVP-ed to have? That's where conditional content comes in. It's a huge help for virtual events and is key to making sure your audience stays engaged with your event.
Select what content you want to show after folks have submitted their RSVP, or gate it even further by only showing the content to attendees starting at a specific time.
Back to all posts